YIKES: Melting Glaciers Revealing Mummified Corpses
Melting glaciers in Swiss Alps could reveal hundreds of mummified corpses | World news | The Guardian
Frozen bodies of couple who vanished 75 years ago among those uncovered recently as global warming forces ice to retreat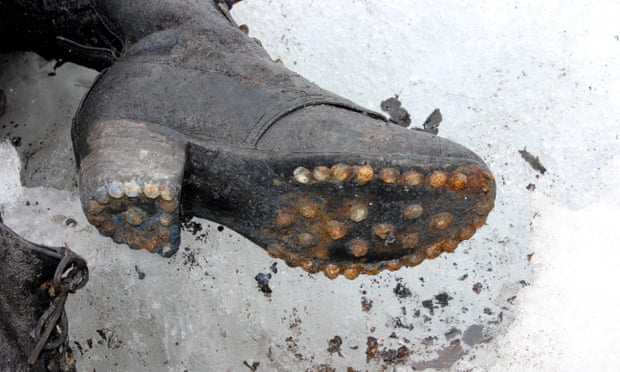 The remains of a Swiss couple found preserved in a receding glacier, near Les Diablerets. The pair disappeared in the Alps 75 years ago. Photograph: AFP/Getty
Melting glaciers in Swiss Alps could reveal hundreds of mummified corpses
Frozen bodies of couple who vanished 75 years ago among those uncovered recently as global warming forces ice to retreat
Swiss police say hundreds of bodies of mountaineers who have gone missing in the Alps in the past century could emerge in coming years as global warming forces the country's glaciers to retreat.
Alpine authorities have registered a significant increase in the number of human remains discovered last month, with the body of a man missing for 30 years the most recent to be uncovered.
Rescue teams in Saas Valley in the Valais canton were called last Tuesday after two climbers retreating from an aborted ascent spotted a hand and two shoes protruding from the Hohlaub glacier.
Rescuers spent two hours freeing the mummified body with icepicks and their bare hands, also recovering a silver wristwatch and a ring. A helicopter flew the remains to Bern, where forensics experts matched the DNA to that of a German citizen, born in 1943, who had gone missing on a hike in 11 August 1987.
One rescue worker said the man had worn shoes "unsuitable" for walking on ice, suggesting he may have slipped after walking a few metres onto the glacier and fallen down a crevice. Both feet had become detached from the body, indicating the force of the fall.
The discovery comes less than a week after the bodies of a Swiss couple, missing for 75 years, were found in the Tsanfleuron glacier in the same canton. Marcelin and Francine Dumoulin had disappeared after going out to milk their cows in a meadow above Chandolin on 15 August 1942.
Whole story HERE

Ritch Cassidy
Want to know more about Ritch Cassidy? Get their official bio, social pages & articles on The Wolf 93.3!
Read more